Our PhD-level statistical consultants are well equipped to handle your statistical needs. We use a variety of software packages (including STATA, SPSS, SAS, SYSTAT, LISREL, MPlus, EQS, Smart PLS, WarpPLS, EViews, and R Stats) as one component of our data analysis services. Our statistical consultants are skilled in a variety of statistical methods, such as basic descriptive analyses, factor analyses, cluster analyses, multivariate analyses of variance, multiple regressions, logistic regressions, propensity score analyses, hierarchical linear modeling (HLM), meta-analyses, structural equation modeling (SEM), Q-sort analyses, and more.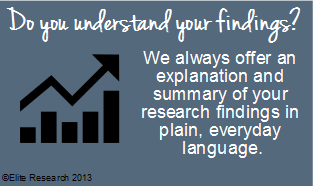 At Elite Research, our statistical consultants strive not only to present you with accurate results through our data analysis services but also to ensure that you understand the analytic techniques utilized to obtain your results. Therefore, we always offer an explanation and summary of your research findings in plain, everyday language.
Why Elite Research?
You will receive support with your quantitative and qualitative data from experienced statisticians who are familiar with various methods of qualitative analyses.

Your PhD-level consultant can assist you with data coding to ensure the accuracy and efficiency of your results.

You will understand how to choose the appropriate research design to answer your research questions.

You will feel knowledgeable and secure in your answers regarding the statistical analyses for your project and the use of various statistical software.

You will feel confident in your ability to choose appropriate statistical analyses for your data.

You will feel confident in interpreting the findings of your research and presenting your statistics.

Your PhD-level consultant can assist you with calculating the appropriate reliability statistics needed for your data (i.e., inter-rater reliability, inter item reliability, split half, test-retest, etc.).

You will be given the choice to receive training about how to create figures and tables correctly or to have our consultants create your figures and tables for you from your data.
Feel free to inquire further for more information about how our statistical consultants can meet all of your statistical consulting needs with our data analysis services. If you are in need of research design, contact Elite Research today!
The services provided at Elite Research proved to be extremely valuable. As I worked on the statistical analysis of information required to complete my dissertation, Dr. Paulson gave much direction and insight throughout the process. The extensive knowledge of the staff, combined with great attention to detail created a final project of high quality with accurate information and a professional presentation. I strongly encourage the use of Elite Research because the many services offered as well as the enthusiasm of the team certainly made the dissertation process easier.