You're more than just a student: You're a spouse, parent, caretaker, friend, and employee. With all of your responsibilities, you can easily feel overwhelmed when working on your dissertation. That's why our academic editors and statisticians offer thesis assistance and dissertation services from proposal to defense. We've been through the theses and dissertation processes many times before, and we'd be happy to help guide you through these processes with customized dissertation services.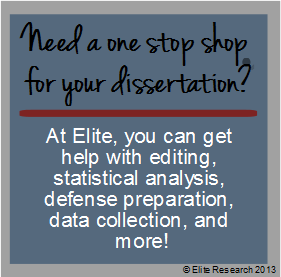 We customize our editing and formatting dissertation services to fit your needs. Whether you need a hard edit of your manuscript content, some help formatting your dissertation or thesis, some tips about how to cite sources correctly, and more, we are here to help! Elite Research offers three types of editing: format, grammar, and clarity. You can customize these services according to the unique needs of your project. Our editors are experts in a variety of style formats, including AMA, APA, MLA, and Chicago. In addition, our team will identify your specific organization or university requirements and edit and format your thesis assistance accordingly. Because every project is different in terms of number of pages and time needed to edit, Elite Research bills you by the hour instead of by the page, which saves you money. Our clients find that the final cost of their dissertation or thesis project is significantly less than they would have paid our competitors due to their high by-the-page rates. We believe that charging you by the hour is a better reflection of the amount of time and work your project requires, as opposed to most other companies which charge you by the page, which does not truly reflect the attention they gave to your project.
We offer training in research design and data collection methods, proposal development, statistical analysis, results presentation, and defense preparation. Our dissertation services and thesis assistance also include tips about how to handle the politics of graduate school, to maintain positive relationships with committee members, to set realistic schedules, and to meet deadlines. Contact Elite Research for thesis assistance today!
Why Choose Elite Research for Dissertation Assistance?
Regardless of what kind of services you need, you will directly work with one graduate-level consultant who is not only experienced but also supportive and encouraging. Your consultant understands that completing a dissertation is a lot of work and wants to see you succeed.
You will feel confident knowing that you chose the right approach to research design and statistical analysis to address your research questions accurately.
Your document will be edited and formatted according to the unique guidelines of your unique university, department, or organization. Most schools have their own requirements that deviate from strict style guides, but our editors will ensure that your document follows all necessary rules.
When you use our editing services, you will save money by paying an hourly rate instead of by the page.
At Elite Research, thesis assistance includes help with preparing for your dissertation defense to answer proposed statistical questions.
For more information, please contact us through our website or by calling 972-538-1374 or toll free at 1-800-806-5661.
I am really impressed with the Elite Research team, especially [my consultant]! She was amazing in helping me formulate and finalize my disseration proposal this last semester. She was the support I really needed to get this finished, and I submitted my proposal on time to my program. In addition, she took initiative and followed up with me continuously to ensure I was taken care of every step of the way. With her help, I definitely put my best foot forward in accomplishing my disseratation proposal. I look forward to continuing to work with her through my last semester finalizing my disseration and helping me with my analysis. Thank you so much Elite Research and [my consultant]; with your help I made the most progress I have in years!