Details

Written by Mary Polakovic
Do you wonder why potential employers aren't requesting interviews with you? It could be your resume or CV! Our consultants provide resume-writing services and professional CV services, regardless of your occupation, industry, or career and experience level. You choose the type of resume-writing services or professional CV services that fits your needs, and our experienced proofreaders and editors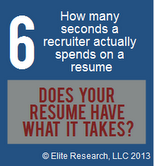 can edit your existing resume or create a new resume from your provided information or LinkedIn profile. Your resume or CV will include specific language targeted toward your employment goals. Our editors have years of experience with resume-writing services and professional CV services, including reviewing writing for typos, word choice, sentence structure, and more. Additionally, our resume-writing services are flexible and allow you or our editors to determine which type of resume (chronological, functional, or a combination, which are explained below) best fits your employment background. Do you need professional CV services or cover letters? Our consultants know what to highlight, include, or exclude in your CV so that your CV will set you apart from others.
Chronological Resumes
•   Best for candidates with strong work histories
•   Organized by the Experience section first (i.e., your work history starting with your most recent position), the Education section next (i.e., a list of the schools you attended and the degrees, honors, and awards you earned), and the Skills section last (i.e., your proficiency in applicable computer programs, languages, etc.)
•   Preferred by more employers
Functional Resumes
•   Best for recent graduates or those with gaps in employment
•   Organized to highlight your acquired skills rather than your past employment
•   Grouped into Skills Clusters sections (i.e., key areas of experience as well as responsibilities and accomplishments for each set of skills)
•   Not as desirable to recruiters and employers

Combination (of Chronological and Functional) Resumes
•   Most popular among job candidates
•   Organized by Skill Clusters sections first and Work History section next
•   Simplified Work History section (i.e., position, company info, and dates of employment) because responsibilities and accomplishments are included in the Skills Clusters sections
•   Accepted by more employers
As with all of our services, we provide an estimate of the time needed to complete your project, so contact us today!
Feel free to contact Elite to inquire further about how we can help you with resume-writing services and professional CV services. Also, ask about our other editing services and professional grant writers.

My project paper looks fabulous! It reminds me of a Seminar that I recently attended on customer service. They gave us examples of what employees do when they do great work versus what employees do who cause the Wow Factor in delivery of services to clients/customers. The Elite Research Team caused the Wow Factor in the quality and delivery of the documents for my Capstone Project Study, in an exemplary fashion! Please give a special thanks to the Editors. Thanks a lot!