Elite Research offers in-office lab hours at our physical location in Carrollton, conveniently located just outside of Irving, TX. The purpose of our lab hours is to provide you with a quiet comfortable area to work on your project with instant access to statisticians or other experts who can help you with any problems or questions that you may have about your project. We find that many clients get stalled by problems that they can't figure out on their own and then have to stop working and set up meetings with their consultants before they can move forward. If you choose to come to our office for lab hours, you may be more productive in getting your project finished. Computers at Elite Research are equipped with Office 2007 or 2010 and various statistical software and are available for your use in the lab. You are also welcome to bring your own laptop.
You can choose between several types of lab hours, including the following: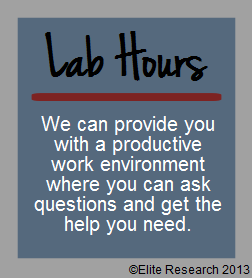 Statistical – Statistical lab hours include designated time for help with statistics.
Table-making – Table-making can be a very time-consuming process, but we can provide you with expert table-making lessons and templates to help you make the types of tables you need for your project.
Online Survey Software – Do you need to post a survey to an online survey software tool, such as PsychData or Survey Monkey? Let our experts show you how to use online survey software more efficiently to streamline your survey process.
Microsoft Word – Informational tutorials regarding general Microsoft Word procedures as well as lesser known tips and tricks of the trade will surely increase your understanding of the software.
Grammar, Spelling, and Punctuation – The English language has several rules unknown to many who have been fluent their whole life. Our experts offer specific training on any specific topic of technical writing.
Citations and References – As a member of the research community, you doubtless spend much time citing your information and creating a reference list. Our tutorials help our clients learn to create in-text citations and create reference listings in the format of any modern citation style (APA, Chicago, MLA, AMA, MLA, Turabian, IEEE, ASA, and ACS).
Feel free to contact Elite to inquire further about available lab hours and services.
I came to Elite Research with absolutely no idea what to expect, yet I was open to all possibilities of any solutions that will help make my thesis research a success. [My statistical consultant] was assigned to me as my research consultant, and from day one she was professional, friendly, and very knowledgeable about the necessary steps in order for my secondary analysis to be respected amongst the higher education field. Most of my participation was lab hours, through the lab hours I controlled my own data analyses with the assistance of [my consultant]. Along with [my consultant], I met other Elite consultants, and they were more than willing to assist me in making my data analyses a success. To make a long story short, not only was my thesis project and defense everything I wanted it to be, but also a door to various opportunities within higher education and research. Thank you very much Elite Research, for you I am eternally grateful for your participation in my thesis project.